Crafting intricate and beautiful text message campaigns won't get you the results you're looking for unless you have a large enough list to engage with your messages.
Suppose you want to maximize the value of text message marketing to increase your revenue and bottom line. In that case, you're going to need to implement systems for growing your list. We've put together a list of some of the most effective ways to capture more opt-ins so you can get started TODAY.
Creating a relevant offer for your audience
This is the most crucial part. If you want to grow your list, you'll need to provide your audience VALUE. Opt-ins are valuable, and your audience isn't going to opt-in unless you incentivize them to do so. We recommend spending time testing several different offers across different channels so that, over time, you can hone in on what your audience finds most appealing. In most cases, a discount works great, but we've also seen certain content offers that add value to the customer experience work really well for driving opt-ins. Throughout this post, we've placed some examples to give you some inspiration if you're just starting!
Best practices to keep in mind:
What's the key benefit the user will get from signing up? Clarify this as much as possible

Explain what types of messages the subscriber will receive after signing up
Channel #1: Capturing opt-ins from your email list
Emails can be one of the fastest ways to grow your text opt-in list because your audience is already warmed up to your brand. You're already communicating with them using email, and it's likely that some of those email subscribers would also like to receive SMS or MMS messages from your brand.
So what are the most effective ways to grow your SMS/MMS list using emails?
It can be as simple as adding a banner to an upcoming email with a "Text to Join" or brand quiz offer designed to attract new SMS/MMS subscribers.
We're big fans of brand quizzes because they can be a creative and fun way to increase conversions and engagement, but they're also effective at growing your list of SMS/MMS opt-ins. At the end of your quiz, offer a seamless way to opt-in that sends personalized product recommendations, discounts, or helpful tips and tricks straight to their inbox.
A great example of a brand using emails to capture text opt-ins is Leon's Furniture. They offer their customers entry into an exclusive VIP program if they text into a dedicated short-code:
Leon's Furniture, a furniture and retail brand, uses a VIP program to promote more text opt-ins: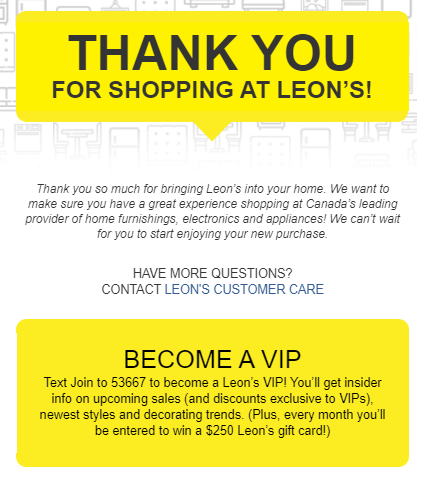 Leon's is building a community of their best customers using this VIP program, and they can reach them on-demand using text messages. It's not uncommon for brands to see 85%+ open rates for text messages.
This begs the question: If you could reach your best customers on-demand and get an 85% open rate with any message you send them, what could that do for your business?
Channel #2: Capturing opt-ins from your website
Your website serves as your online shop, and you're already getting traffic from your ideal customers. There are several points throughout your website experience where you could add opt-in opportunities:
Pop-up forms: offer visitors a discount incentive to opt-in for texting

Announcement bars: Add your opt-in incentive to a floating announcement bar

Homepage footer: visitors will often look at the footer for customer service or contact details, and you can collect more opt-ins by offering texting as a support channel

Cart page: these pages usually have higher than average bounce rates. Including an opt-in on this page can help recapture lost sales through cart abandonment text message flows

Checkout page: Like the cart page, visitors who reach this page are likelier to convert if you can re-engage them with an enticing offer. Collecting opt-ins on the checkout page gives you that power!

An excellent example of a retail brand using its web traffic to capture more text opt-ins is Big Sandy Superstore. Website visitors are greeted with a pop-up form to enter a $25,000 contest in exchange for opting into text messages.

Big Sandy Superstore, a furniture and retail brand, uses a pop-up form to promote more text opt-ins:
Channel #3: Capturing opt-ins from your social media
Social media is another excellent channel for growing your text opt-ins because you already have a following. Lot's of people primarily use social media on their mobile devices. Which means they're already primed for opting in for text messages!
The key here is to make it easy. You can do this by creating a mobile-optimized landing page that they can quickly navigate to and opt-in.
Feel free to get creative here. Equal Parts, a DTC cookware and lifestyle brand offer a "Text-a-chef" program to incentivize opt-ins. Use Instagram stories combined with a custom URL link in your bio to drive traffic directly to your opt-in page.
Equal Parts, a DTC cookware and lifestyle brand uses a unique offering to drive more text opt-ins: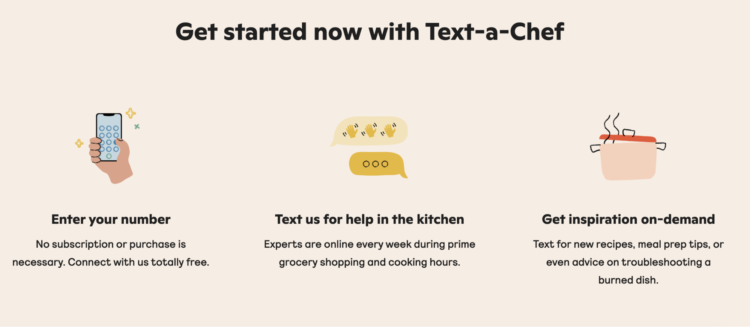 Channel #4: Capturing opt-ins offline using QR codes
QR codes are much more popular these days. Most modern phone cameras have a built in QR code scanner, which makes using QR codes much more effective.
You can strategically place QR codes paired with contests or quizzes at your brick-and-mortar and vendor locations to drive more text opt-ins from your in-store traffic.
We've seen brand's have great success using contests to drive more opt-ins. Here's how you can emulate it:
Create a contest that your target audience would be interested in joining

Customers begin by scanning the associated QR code

Customers are redirected to a branded opt-in webform where they consent to receive text messages from your brand in exchange for entering the contest

Send an opt-in confirmation message to the customer to make sure you're only keeping quality opt-ins
Labatt, the parent company of Bud Light, uses in-store contests to promote more text opt-ins: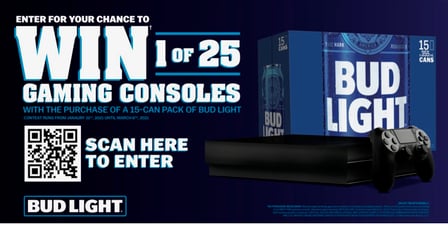 Ready to get started?
Those are just some of the ways you can start growing your SMS/MMS list RIGHT NOW. If you're seeking additional assistance in developing your SMS/MMS list, schedule a free consultation with our team so we can learn a bit more about your brand and how we can help improve the efficiency of your SMS marketing efforts.