Retailers who are most successful at aligning the digital and in-store experiences and getting a single view of the customer will be those who ask customers to volunteer data.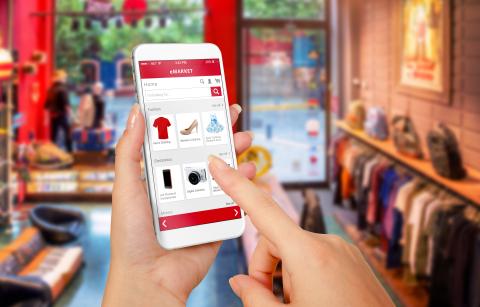 Since the advent of online shopping a generation ago, retailers have struggled to create a seamless experience for customers. Keeping the brand promise in the digital and physical worlds is a complex challenge that touches on all facets of the customer experience, from consistent branding across channels to outreach via email, phone and text and to create memorable in-store experiences.
We've all heard cautionary tales when online and in-person experiences clash. As an example, a customer who placed a bedding set in an online shopping cart and then purchased the item at the store instead, only to receive a 50% off discount offer on the e-commerce site the store refused to honor.
Retailers must avoid the risk of similar disconnects as new technologies further blur the lines between digital and physical worlds. For example, Apple's recent Vision Pro preview is a coming attraction of what that future might look like and promises to put digital content in the user's physical space in a new way by enabling navigation via the user's eyes, hands and voice. Retailers have to be ready for this new experience and its implications.
But as retailers prepare for what comes next, keep in mind why it's critical to align digital and physical experiences in the first place. Taking steps to unite these experiences can increase customer loyalty, which is essential, but you also have an opportunity to get a single and clear view of the customer. This way you can anticipate their wants and needs to supercharge loyalty. Here's a closer look at how to achieve both aims.
Multiple identities, one customer
One persistent barrier to syncing personalized experiences across channels and gaining a unified view of the customer is people may interact with your brand using multiple ID markers. For example, research from 2022 found more than 80% of survey respondents in the U.S. have more than one email address, and more than a quarter have at least four.
So, using email as the unique customer ID is a problem, and though the use of multiple phone numbers is declining and the number of email accounts is increasing, cases exist where consumers have more than one phone number or share a phone with another shopper. Social graphs can also be complicated since consumers might participate across multiple platforms using different user IDs.
Retailers can cut through the noise by setting up an incentive structure that encourages customers to share their identity voluntarily. Ideally, if an interaction with the brand occurs after a customer clicks through a Facebook ad and is retargeted based on demographics, you know who the individual is because they have an incentive to log in at your site.
It should work the same way when customers visit a store, and linking their online and in-person identity for a single view doesn't have to be overly convoluted. With a technology infrastructure and automated tools in place, it's simple to use a single data point to triangulate against multiple digital identities for a singular view of the customer.
Integrating digital and in-store sales teams
According to a recent PYMNTS-ACI Worldwide study, retailers believe customers will shop elsewhere if stores don't meet customers where they are — in person, online and on mobile — and offer the level of personalization and convenience they expect.
The digital shopping experience is firmly ingrained as a buying habit in the wake of the pandemic, but people are social by nature, and they're showing up at stores — with their devices. This is an excellent opportunity to ask customers to share data voluntarily so you know who they are when they visit in person or online. But if online and in-store sales organizations compete, this may unintentionally undermine the effort to create a seamless experience.
It's important to understand customers are almost certainly being influenced by both teams when they make a purchase. Maybe they researched an item online and picked it up in the store. Or maybe they visited the store to touch and compare various items and then went home and made the purchase online. Keep in mind online and offline experiences are all part of the customer journey.
And yet many retailers still separate online and in-store sales as departments and reporting hierarchies and encourage competition between them. Marketing attribution metrics attached to digital ads and offline promotions — and visual merchandising in stores and site layout — have been disconnected traditionally. But as retailers take steps to ensure consumers experience the brand, it's time to recognize only one sales organization and one customer journey exists.
Closing the loop for a single view of the customer
Retailers need a way to create deeper, trust-based relationships with customers to offer a personalized, seamless experience across channels. The good news is that it's doable and relatively simple. The brands who are most successful at aligning the digital and in-store experiences and getting a single view of the customer will be those who step up and ask customers to volunteer data.
It requires an infrastructure to manage customer opt-ins and opt-outs in real time on a unified platform compliant with privacy regulations. But with automation technology that supports digital and in-store encounters at the point-of-sale, you can ask the customer to share data, provide incentives and respect their communication preferences to build loyalty.
With data that illuminates the entire customer journey, you'll have the information you need to understand when and how customers buy your product, what factors influenced the purchase decision, which method they used to bring the item home and any other relevant information. This insight will enable retailers to ensure an uninterrupted, consistent and personalized experience.
Perhaps even more importantly, retailers will get a single view of the customer journey as consumers encounter your brand in virtual and physical worlds. The heightened attention to data privacy presents a golden opportunity to create a seamless brand experience — and get a single view of the customer.