Keeping It Simple with Direct Connect™:
As an individual working in Human Resources for a company or working for an insurance agency, how many times have you had policyholders ask you for the details of their benefits packages or what is covered under their insurance? And with COVID-19 being present in everyone's mind, these queries arise more often than normal. Staying organized and answering these messages is a full-time job in and of itself. By utilizing the right solution you can decrease the response time to your policyholders by streamlining the process and getting them in touch with benefit providers from the get-go.
With Direct Connect™, you are able to remove the existing communication barrier between benefit providers, employers, and policyholders. By collecting compliant data, our software can discern between mobile and landline phone numbers and send out text-based communications accordingly on behalf of the benefit providers, essentially cutting out the middleman and eliminating the risk of miscommunication.
Going With the Flow(chart):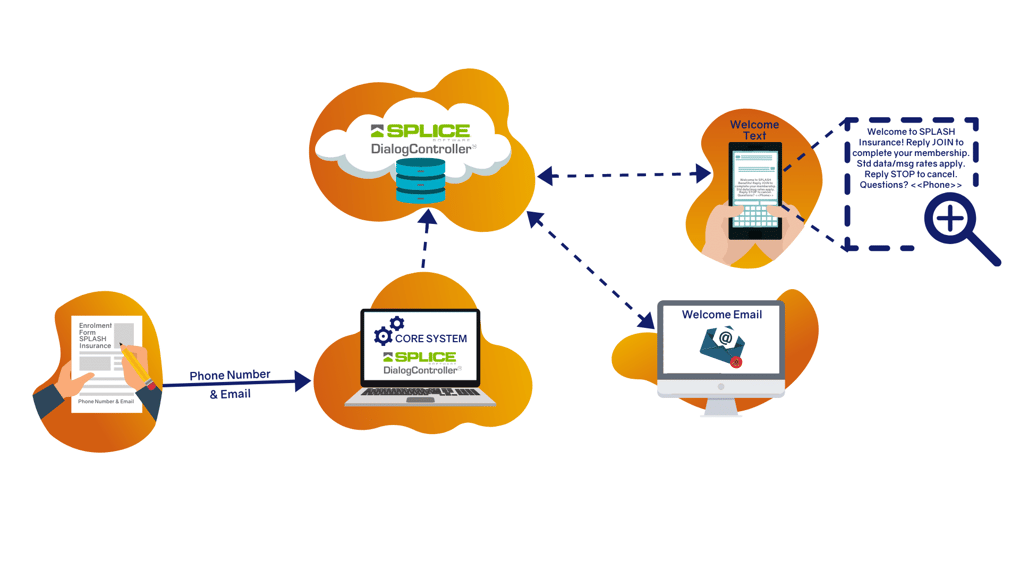 The flowchart above gives an outline as to how the Direct Connect™ process is broken down and accomplished step-by-step:
First, an employee becomes a policyholder or claimant and provides information to your system (by completing an enrollment form containing their personal information for example). Through utilizing this method, a disclaimer would be provided informing policyholders that they are opting-in to receiving communications from the provider. 

Following that, the personal information provided within the form, or other means, gets added to the core system of the benefits provider. This in turn sends the phone number and/or email that was provided in the form to SPLICE. From there, in the case of phone numbers, SPLICE determines whether the number is for a mobile device or a landline. 

If the number is determined to be a mobile number, SPLICE sends out an automatic text message on behalf of the provider welcoming the individual to the benefits program. Additionally, to ensure that the policyholder truly intended to opt-in to this form of communication, SPLICE uses a double opt-in system to confirm their participation.

In the case that the number provided is not detected as a mobile number, SPLICE will send an automated call to collect a call opt-in. Additionally, to ensure that the policyholder truly intended to opt-in to this form of communication, SPLICE uses a double opt-in system to confirm their participation.
As outlined above, the Direct Connect™ application easily helps facilitate clear and transparent communication between policyholders and their providers. Whenever a benefit provider wants to contact a client, they simply have to confirm within the SPLICE Dialog Controller™ for confirmation of opt-in consent, then they are able to reach out to the policyholder by whichever channel they chose to opt-in too. Moreover, this Dialog Controller™ is attached to a platform that has multiple applications, including applications that are capable of more than just Data Collection, it can also be used to help support the following areas:
Renewing & Retaining Clientele 

Sales & Marketing Endeavors 

Plan Design & Providing Quotes

Enrollment

Claims Support

Growing Customer Relations
SPLICE & Salesforce: Giving You the Edge
Using Salesforce to access Direct Connect™ comes with an incredibly special benefit. If you were trying to access Direct Connect™ from another non-integrated CRM software, you would have to log into your SPLICE account independently to see all the metrics. However, if you are subscribed to Salesforce, you have the unique advantage of using Direct Connect™ through the built-in reporting in Salesforce. This will allow you to access various components of the Dialog Controller™ without having to log out of the system. Metrics that you will be able to see include:
The landline to mobile phone numbers split

The number of people who have opted-in, or -out

The different segments of individuals who have opted-in
The built-in Dialog Controller™ charts can be shown in any homepage or Salesforce record and is fundamental in breaking down the opt-in info provided by SPLICE. In addition, the App Launcher within Salesforce can take you to the Direct Connect™ start page where your administrators are able to set up the System Connection and the Data Sync Configuration components of the software. The first section gives you information about how to set up the Invokable Method and provides a link that opens to the Process Builder. Direct Connect™ also adds an Opt-In tab available to your users so that you can track which contacts are opted-in and what they are opted-in too directly within Salesforce.
Direct Connect™ has many advantages apart from helping create clear communication between benefit providers and policyholders. It simplifies the opt-in system by creating a secure place to store client information and helps keep records of consent to protect all parties. The data insights and metrics allow those who use it to stay up-to-date with their clients and open rates are improved due to the content being distributed in the policyholder's preferred channel of communication. But, more importantly, it truly connects companies with their customers in a safe and personal way.
Interested in learning more about Direct Connect™?